I know I said in my last post that I would take pictures and list today. Well, I did manage the pictures. But I got distracted in a new piece and didn't get the chance to list! I will definitely do that first thing tomorrow.
But I am very pleased with how this newest piece turned out. I have a bunch of what I like to call orphan beads. They are the leftover beads I have, usually they aren't enough to make a whole piece out of. They are leftover from strands or packs, or sometimes they are only one or two pieces that match in an assortment. Sometimes, I find a few beads that I think will be great for this or that, then realize they aren't exactly what I expected. And in lampwork glass bead assortments, the beads really are an assortment, and most don't match.
For a long time, these beads have sat in my bead containers, taking up space. I could never throw a bead away, unless it was broken or something else was wrong with it. And even then, I sometimes keep them, if I think I might be able to do something with them (what, I'm not sure yet, but you never know...). As it is, I have some supplies that don't have a home, because I've been too lazy to buy a new storage container, because I know that, once I use up beads, I'll have more room. And since these are taking up the most room, these need to be the first to go.
You may have already seen my other two orphan bead pieces, one in
Shades of grey
and one in
green
. Today, I've added a never-ending necklace to that category. What is a never-ending necklace? It is a necklace with no end; that is to say, with no clasp. It is big enough to fit over your head, and this one is big enough to double around your neck. It took two hours to make, but it is even better than expected. Two hours probably sounds like a lot, but I wire looped each bead, individually, then joined them all together to form a chain of beads. The beads are all different colors and the effect is really cheery.
I actually thought it would take longer to complete, so that's another reason I'm pleased. I have fibromyalgia, which is a condition characterized by chronic pain and fatigue. What that means for me, personally, is that I am often in pain for no discernible reason and even the most mundane of tasks can leave me far more tired than one would expect. I say this only to explain why I am tired out after making only one piece. Also, I have to take breaks to rest, especially my hands because of the tools, but I do not factor those breaks into the labor of each piece. I have also found that, for whatever reason, it is easier for me to create jewelry in the evenings. During the day is generally when I do paperwork, filing, organizing, taking pictures, listing, and everything else. I thought I would just take a quick break to work on this new piece; once an idea has hit me, it's hard for me to not jump right in, whatever I am doing. And thus, I became distracted in this piece I thought I would just get started.
I also got distracted earlier, while taking pictures of my pieces. I have a cat--Delly--who I just had to take pictures of. She was sleeping so peacefully and looked so innocent--a rare opportunity. And for whatever reason, today she was being cooperative when I wanted to take her picture. She looked at the camera, turned her head different ways. I was taking a picture of a pair of earrings hanging on the lip of a cup, and she lowered her head to look into the cup. Lowered it further. Then she would stick her paw into the cup. The shots were just too cute. And she usually looks away or walks away, so of course I had to take the opportunity.
Here are some examples: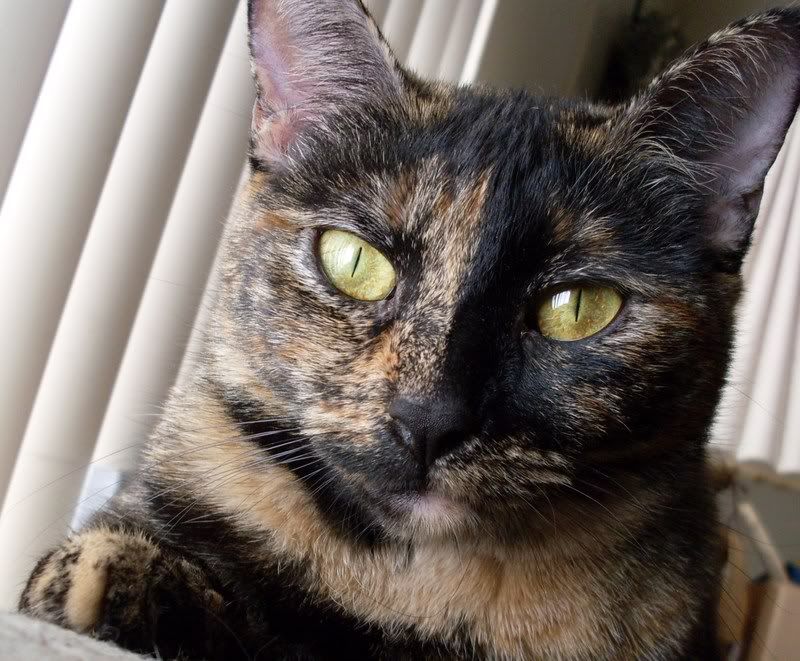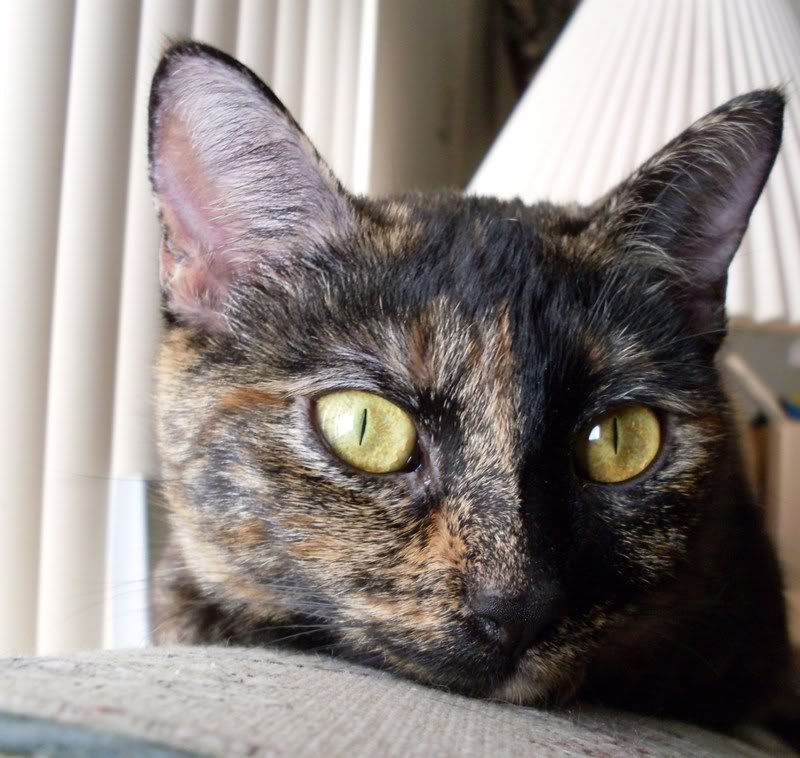 So pensive...